A set of possibilities for sector development is emerging for all stakeholders in the Lemanic region and across Switzerland. The recommendations have largely been sourced from the stakeholders themselves, as a high number of survey respondents provided detailed suggestions on how to improve each dimension of vitality.
---
Recommendations In A Nutshell
The analysis of some 180 recommendations tied to specific dimensions of vitality collected from stakeholders through the perception survey, and the results of the assessment detailed in the previous chapter, formed the basis for six major recommendations (see Figures 8 and 9 below). Each recommendation is associated with the indicators it can most help to progress.
Figure 8: Recommendations and relevant indicators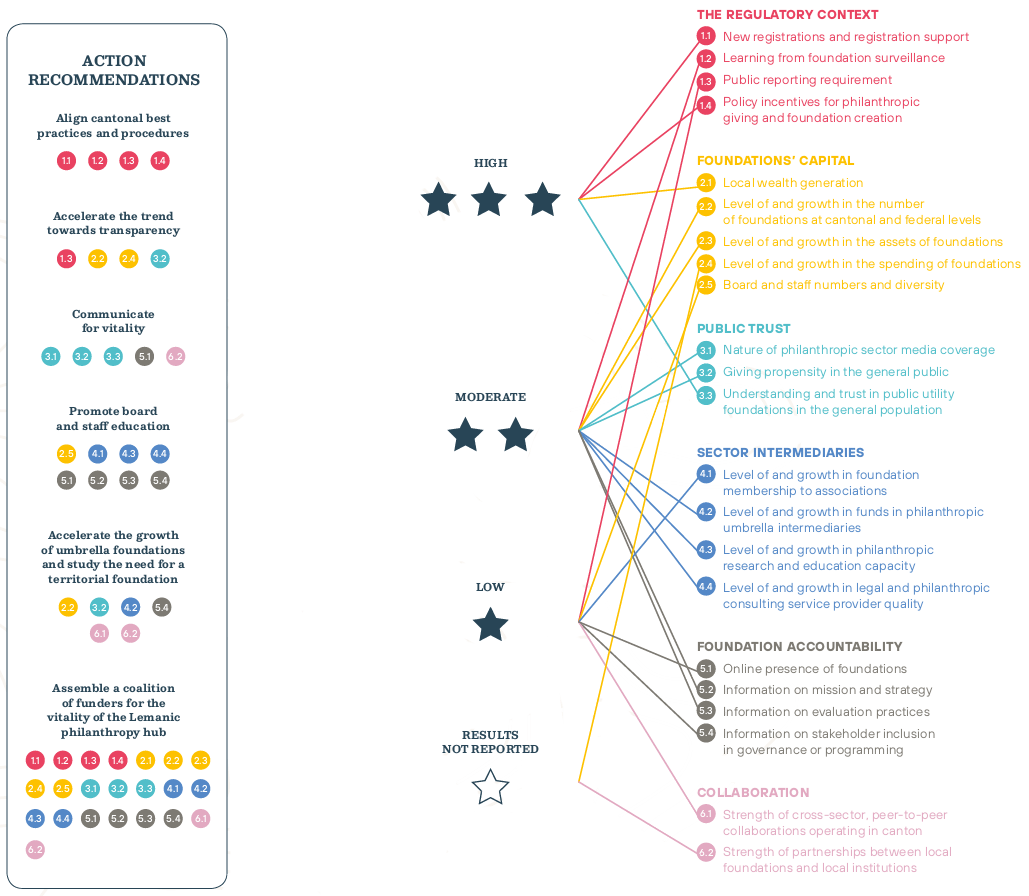 While clearly grounded in the indicator results, as depicted above, we present each recommendation below from a different perspective, noting whether the actions are:
More "structural" in nature, requiring new policy conditions or new structures; or "voluntary," meaning that they can be implemented by existing stakeholders;
More or less complex, around a subjective assessment of high / medium / low ease of implementation; and
Implementable over shorter- or longer-term periods

immediate, within 1 year
within 2-3 years
within 5 or more years
We list recommendations below starting with voluntary actions, with lower complexity of implementation and shorter timelines, and progressively move to more structural, complex and longer-term actions.
With each recommendation, we also suggest:
Useful and inspiring references for implementation (Swiss and international case studies, reports and articles)
Sector stakeholders who might be well positioned to lead change in these areas
Potential immediate next steps
Figure 9: Overview of recommendations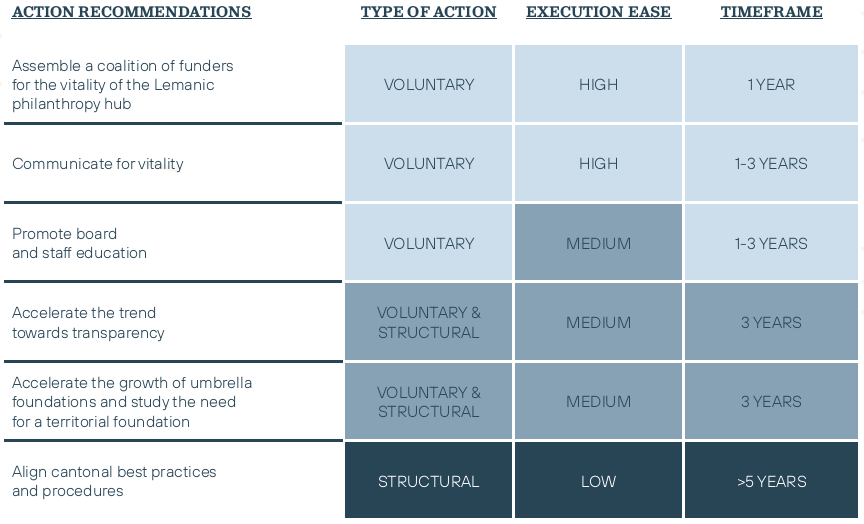 ---
Assemble a coalition of funders for the vitality of the Lemanic philanthropic hub
Type of action
Voluntary
Execution ease
High
Timeframe
1 year
To guide and resource the envisioned agenda for improving the vitality of the Lemanic philanthropic hub, and to track progress against this agenda, we recommend the creation of a coalition of funders. This coalition would coordinate a development agenda inspired by our recommendations with cantonal authorities. This group of "sector champions" would be composed of Swiss and Lemanic foundations and philanthropists committed to sector vitality and the possibility of doing things better and more efficiently to address both local and international societal needs.
Coalitions of funders have promoted the growth and professionalization of the Swiss and global philanthropic sectors for decades. We can acknowledge, for example, the seven foundations currently acting as champions and board members of SwissFoundations; the nine foundations supporting CEPS; and the six key funders behind the recent launch of the GCP (see Figure 10). Last but not least, of course, the present study is itself the product of a coalition of funders, the names of which are listed in Appendix 3.
Figure 10: Board members of selected organizations
GCP
CEPS
SwissFoundations
Fondations Edmond de Rothschild
Age Stiftung
Arcas Foundation
Fondation de bienfaisance du groupe Pictet
Arcas Foundation
Christoph Merian Stiftung
Fondation Hélène et Victor Barbour
Avina Stiftung
Fondation Leenaards
Fondation Leenaards
Ernst Göhner Stiftung
Gebert Rüf Stiftung
Fondation Lombard Odier
Gebert Rüf Stiftung
Jacobs Foundation
SwissLife Stiftung Perspektiven
Ria & Arthur Dietschweiler Stiftung
Sophie und Karl Binding Stiftung
Sophie und Karl Binding Stiftung
Velux Stiftung
Stiftung Mercator Schweiz
Velux Stiftung
Most recently, Worldwide Initiatives for Grantmaker Support (WINGS) highlighted the role and importance of funders in developing a thriving philanthropic ecosystem.21,22 A key message in that study resonates strongly with the spirit of our vitality assessment: We must challenge ourselves to dream of thriving civic spaces and the steps we must take to get there.
Stakeholders most concerned:
Swiss/Lemanic foundations
Foundation associations and philanthropists
Geneva and Vaud cantonal governments
Funders of the vitality study could reach out to potential additional funders for implementation and convene an aspirational planning and fundraising session. The resulting coalition of funders could commit to and champion a first three-year sector development agenda.
Communicate for vitality
Type of action
Voluntary
Execution ease
High
Timeframe
1-3 years
To support and advance all dimensions of public trust, new investments in the communications capacity of the philanthropic sector are needed. This will also help to increase the online presence of foundations and their potential to be identified by and support local institutions. It is worth noting here that, if this recommendation is to be heeded, foundations will need to be convinced to identify and share their best stories and lessons learned, which is currently done only selectively. For example, SwissFoundations already runs a communication task force, which is composed of communication experts from key foundations. Such efforts could be expanded.
Survey respondents and expert stakeholders imagined the following options:
Support to foundation associations to enhance their dissemination of stories of local contribution and impact (through social media), periodic briefing of local media and response capacity to negative coverage. Timeline: within 2-3 years
Development of a regional philanthropic sector fact and guidance sheet for potential new philanthropists and their public and private intermediaries. Timeline: within 1 year
Provision of a website-building service or hosted website for Lemanic foundations that do not have the resources or expertise to maintain their own online presence. Timeline: within 2-3 years
Examples abound of how to support implementation of such ideas. For example, Alliance magazine facilitates knowledge exchange among philanthropists to maximize the impact of funding for social development. Alliance has taken a collaborative approach, bringing together sector stakeholders who wish to learn from their peers in what Charles Keiden, the former Director of the Pears Foundation, calls "a platform for friendly but constructive and robust discussion about philanthropy, often from the viewpoint of those affected by the decisions of foundations and philanthropists." Alliance has a largely European readership, but it seeks to catalyze action on a global scale with its content. It draws support from the European Foundations Centre (EFC) and the Network of European Foundations (NEF).23
Other communication facilities that push the philanthropic sector include WINGS, Philanthropy Advocacy, the Foundation Center's IssueLab, and the Community Foundation Public Awareness Initiative (see more on community foundations below). On the local front, two years ago SwissFoundations started an inclusive initiative to tailor and boost its communication capability and that of its members.
These recommendations could be implemented and/or accelerated by foundation associations, umbrella foundations, and/or the GCP.
Lemanic intermediaries could present proposals to the boards of relevant foundations, and potentially to the new funders' coalition, for how to improve sector communications, create the fact sheet, and help foundations get online.
Promote board and staff education
Type of action
Voluntary
Execution ease
Medium
Timeframe
1-3 years
To advance board and staff numbers and diversity, all areas of accountability, growth in association membership, and academic research and education capacity, experts and survey respondents recommend the following actions:
Develop a comprehensive education program for aspiring and existing foundation board members and staff, associated with a Lemanic/Swiss certificate/accreditation in philanthropic management. Timeline: within 2-3 years
Continue to provide knowledge exchange events as well as incubation of new initiatives through SwissFoundations, proFonds, and/or AGFA (the foundation associations). Timeline: immediately
Several international programs could serve as examples for implementation. The Ashoka University Centre for Social Impact and Philanthropy, in collaboration with WINGS, stresses how professionalism, good governance and core operations skills are key components of a supportive ecosystem for philanthropy.24 There are several executive education programs for non-profit management: for example, the Lilly Family School of Philanthropy at Indiana University offers philanthropic practitioners a Certificate in Non-Profit Executive Leadership for mid- and upper-level non-profit leaders. This certificate program focuses on general management (including financial analysis, program evaluation, and strategic planning) to guide practitioners to lead non-profits in the 21st century.
Executive education for non-profits does exist in Switzerland, but at a fairly limited level. There are only the following four well-established courses currently on offer in the country, which, given the Swiss total of over 13,000 foundations, is currently a modest education capacity that needs to be built out in ways that keep supply and demand in lockstep:
Certificate in Management of Non-Profit Organizations (Certificat en gestion et management dans les organisations sans but lucratif), offered by the University of Geneva
Certification of Excellence in the Management of Non-Profit Organizations (Certification de l'excellence dans le management d'organisations à but non lucratif), offered by SQS
A course in Foundation Governance (La gouvernance des fondations) offered by the Académie des Administrateurs (ACAD) in Lausanne
A Masterclass in the management of grant-making foundations (Cours intensif en gestion des fondations donatrices), offered by Swiss Philanthropy Foundation in partnership with CEPS and the GCP
In addition to these courses, there are several regular events held in different parts of Switzerland that offer philanthropy professionals the chance to exchange knowledge and experiences. An example from the Lemanic region is the Forum des Fondations, organized every year by AGFA, proFonds, and SwissFoundations in partnership with ACAD, the GCP, and IMD.
This recommendation could be implemented by the GCP and CEPS, in collaboration with SwissFoundations and proFonds, umbrella foundations, and international experts/centers (such as IMD's Centre for Family Business). Curriculum development could occur in consultation with local authorities, especially the surveillance authorities, who can report on areas for professional development.
GCP and CEPS could conduct a joint "curriculum strategy" process, in consultation with SwissFoundations and proFonds, to assess current offerings and needs, and define the next curriculum priorities to be implemented jointly or individually.
Accelerate the trend towards easier accessibility of information and transparency
Type of action
Voluntary & Structural
Execution ease
Medium
Timeframe
3 years
To enable further research as well as facilitate collaboration, survey respondents and stakeholders propose the following recommendations:
Develop a voluntary reporting platform to gather (machine) readable data on foundations' activities and the sector. This platform could also support foundations by facilitating the process of reporting on key indicators and their grants in a standard way. Timeline: within 5 years
Expand the Geneva foundation mapping to cover the full Lemanic region. Timeline: within 2-3 years
Deepen research on foundation transparency in the Swiss context, with the aim of influencing policy and practices. Timeline: immediately
A first reference and precedent for increased public reporting does exist in Switzerland. In the 2016 SwissFoundations/CEPS annual report on Swiss foundations, asset and spending data for 1,278 foundations registered in eastern Switzerland (the cantons of Appenzell Outer Rhodes, Saint Gallen, Thurgovia, and Ticino) were disclosed in aggregate by the surveillance authorities for the years 2010 to 2013.25 This would, however, represent only a very first step, as similar reporting in other jurisdictions usually goes much further, extending to the level of individual grants and grantees.
Another option is to accelerate reporting on a voluntary basis.26 For example, the 360Giving Standard in the UK has been a successful neutral party supporting over 100 organizations to publish grant data in an open, standardized format. The hub provides additional services, such as 360Insights, to find funding data for better informed decision-making, as well as Beehive, an online funding match-maker.
Another reporting standard, the Global Philanthropic Data Charter 2017, helps organizations measure and share data openly. This charter suggests how data sharing promotes effective grant-making with informed decision-making, improved understanding and learning, and greater collaboration and visibility.27 Any voluntary standard would, of course, depend entirely on foundations' good will (and/or peer pressure) in order to take hold in Switzerland. It would therefore be advisable for the backers of any attempt to push a voluntary standard to secure several large and influential foundations as champions before proceeding.
These recommendations could be implemented by a newly formed non-profit provider (as an affiliate of an international platform provider) working in collaboration with Lemanic sector organizations and cantonal authorities, or as a new unit of the GCP and/or CEPS.
The Geneva and Vaud governments could share best practices on the foundation mapping, the GCP could add a research stream on foundation transparency, and the potential funders' coalition could support the scoping of a new data platform for the sector.
Accelerate the growth of umbrella foundations and study the need for a territorial foundation
Type of action
Voluntary & Structural
Execution ease
Medium
Timeframe
3 years
To influence a culture of giving in the general population, reduce the number of newly registered foundations (by creating an alternative for smaller foundations), reduce costs, and increase professionalism and efficiency, as well as encourage local collaborations and partnerships between local foundations and institutions, experts and survey respondents recommend the following actions:
Deepen the partnership between surveillance authorities (in their pre-opinion advisory function), umbrella foundations, and the professional (legal and tax) advisors who work with new foundation founders, in order to accelerate the transfer of smaller foundations into umbrella structures. Timeline: within 2-3 years
To facilitate efficient citizen engagement with local causes, study the need and viability of a dedicated Lemanic community or territorial foundation for the general public who wishes to support local needs. While general public vehicles such as Chaîne de Bonheur exist and are very successful, a new community or territorial foundation could further boost capacity. Such an entity could also facilitate and host local collaborations, offering a backbone function for local multi-stakeholder efforts. It would also be important to strengthen such a territorial foundation's understanding of local needs by linking it to local interest groups. This structure could be created as a new entity or be embedded in existing umbrella structures, and would require significant public sector support as well as coordination. The first step is a feasibility study. Timeline: 5-10 years
Community (or territorial) foundation best practices are well studied internationally, and their relevance to Switzerland was highlighted in 2015 by Avenir Suisse.28 Community foundation associations in the US, the UK, and Germany, among others, provide ample tools and guidance to those seeking to create a community or territorial foundation. CFLeads and CFInsights are knowledge hubs for the field, providing powerful frameworks for community foundation excellence. Examples such as the Community Foundation for Northern Ireland also illustrate how community foundations can implemented a coordinated and holistic approach to regional development.
The first recommendation could be led by the local umbrella foundations and the cantonal governments. The Lemanic territorial foundation would require the collective support of all local stakeholders, and could be implemented by a coalition of foundations, cantonal authorities, and community foundation experts.
Umbrella foundations, authorities and (legal) intermediaries should convene to find ways to accelerate the transfer of small foundations to umbrella structures, and encourage some donors to adopt these structures.
If a feasibility study is conclusive, a next step for a territorial foundation would be to establish its business plan, in close collaboration with sector stakeholders and supported by the new funders' coalition.
Align cantonal best practices and procedures and keep improving incentives
Type of action
Structural
Execution ease
Low
Timeframe
>5 years
To support the regulatory context, as well as board and staff skills and diversity, experts and survey respondents recommend the following actions:
Alignment of the supervisory authorities in Geneva and Vaud (and ideally the federal surveillance authorities as well) on their practices. Timeline: at least 5 years, if not longer. Examples could include:

Alignment in choosing/defining and applying qualitative and quantitative factors
Alignment of surveillance risk criteria in order to share sector development needs
Sharing aggregated information on public utility foundations
Coordinating practices via regular meetings
Supporting sector development priorities and visibility

Alignment of the practices of the two cantons' tax authorities. Areas for alignment could include Vaud's guichet unique system, the possibility for foundations to have activities abroad, and/or conditions for board member compensation and remuneration. Alternatively, the cantons could better inform practitioners on the practical differences in regulation during an annual conference where the two authorities could exchange ideas and feedback with sector professionals. Timeline: within 2-3 years
Alternatively, to encompass all of the above, the cantons could establish a "concordat inter-cantonal" to create a common set of local rules. This would formalize alignment of cantonal authorities' practices and improve the tax treatment of local non-profit entities. Timeline: 3-5 years
As presented in the analysis, the current status of fiscal regulations and other measures meant to encourage and facilitate philanthropy is positive, but not optimal. This is due in particular to restrictions applied by tax authorities regarding fiscal exoneration. The tax experts consulted recommend that the tax authorities adapt their practices to the evolving needs and expectations of non-profit entities by:
Encouraging foundations to self-fund (via their own commercial activity) by removing the requirement of competitive neutrality with profit entities from the criteria for a tax exemption. Timeline: within 2-3 years
Providing incentives for companies to dedicate some of their assets and profits to the public good (e.g., by making investments to transform their core businesses in the direction of sustainable value creation). Timeline: within 2-3 years
Allowing an adequate remuneration for board members in consideration of their responsibilities and competences. Timeline: within 2-3 years
These recommendations would by definition need to be implemented by the cantonal authorities, who could seek support from academia and foundation associations.
Convene a working group between tax and surveillance authorities of both cantons, the GCP, SwissFoundations and proFonds, and volunteer legal experts, to consider the analysis and develop a roadmap for policy consultations and potential adaptations.
---
This recommendation chapter concludes the report. Readers who are interested in additional analysis and information on study methodology are invited to refer to the appendices.